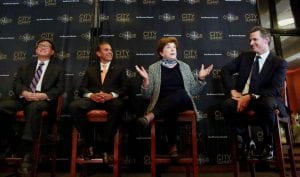 Pictured left to right: John Chiang, Antonio Villaraigosa, Delaine Eastin, Gavin Newsom
On Tuesday, October 24th, The City Club of San Francisco and the San Francisco Chronicle presented the latest installment of the collaborative City Summit series, "California's Big Issues: Do Democrats Have the Ideas and Resolve to meet them?"
We brought together the four leading Democratic Candidates for Governor – John Chiang, California State Treasurer; Antonio Villaraigosa, Former Mayor of Los Angeles; Delaine Eastin, Former State Superintendent of Public Instruction; and Gavin Newsom, Lieutenant Governor of California – on one stage to have an insightful conversation about the big issues facing the state of California. The enlightening and substantive discussion, led by the San Francisco Chronicle's Editorial Page Editor, John Diaz, provided the candidates the opportunity to compare and contrast their ideas on the important policy decisions facing the state, including health care reform, education, housing, immigration, and climate change.
Luncheon was served to the capacity crowd, press corps and distinguished guests.
Click here to see the ABC7 coverage
Click here to read the San Francisco Chronicle's recap of this terrific event.
Stay tuned for the announcement of our next installment of City Summit, featuring the leading Republican candidates in January, 2018.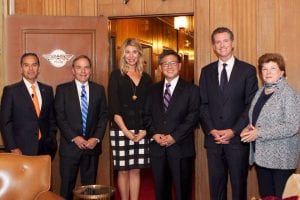 John Diaz, Editorial Page Editor, San Francisco Chronicle (2nd from left) and Victoria Welch, Club Director, City Club of San Francisco (3rd from left) with the candidates prior to the discussion.