It's the most wonderful time of the year (again)…let's Play Ball! Our beloved San Francisco Giants are ready for a new season and we have a tradition of kicking off baseball season at the annual Junior Giants Play Ball Lunch!
Our tradition of attending this incredible event started over ten years ago when our then-Board Chair, Cleopatra Vaughns, introduced us to the Junior Giants program and invited us to join her at this special lunch. After Mrs. Vaughns passed away in 2007, we've honored her legacies to both The City Club and the Giants Community Fund by continuing to support this wonderful organization at this annual event each Spring.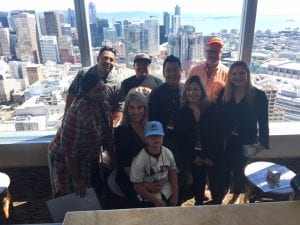 This year's event was exceptional! Held at the Hilton San Francisco Union Square, we enjoyed a reception and the panoramic views of beautiful San Francisco from the 46th Floor at the Cityscape Lounge, while getting autographs from some of our team's bests – Matt Cain, Madison Bumgarner, Hunter Pence, and Buster Posey.

The lunch program following the reception is always great fun, and the perfect way to kick off the start of a new season. Each year we learn more and more about this awe-inspiring community program, and we always enjoy hearing first-hand accounts of how valuable the program is from participants of Junior Giants programs from all over California, and parts of Oregon and Nevada. This year, we had the pleasure of having Giants infielder Kelby Tomlinson as a guest at our table, along with a 4-year old Junior Giant – who was the real star of the show!
And now, it's time to officially PLAY BALL! Wishing our boys the best of luck out there this year!
Congratulations to the Giants Community Fund for another incredibly successful Play Ball Lunch, raising over $475,000 at this year's event!
About the Junior Giants:
Junior Giants is a free, non-competitive and coed baseball program for youth ages 5-18. Working together with local agencies, families and volunteers, Junior Giants reaches into communities and offers youth a chance to learn the basics of baseball during the summer while also discovering the importance of essential life skills.
Established in 1994, Junior Giants now annually serves over 25,000 participants in 90 leagues. Junior Giants is more than just baseball and offers several distinct programs to further enrich a player's experience. Players learn the Junior Giants Four Bases of Character Development: Confidence, Integrity, Leadership and Teamwork, as well as the importance of Health, Education and Bullying Prevention.