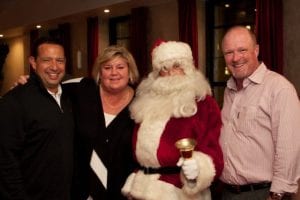 Pictured (L to R): Stephen Giacalone, Director – SF Firefighters Local 798, Gwenn Stroman – The City Club, Santa – The North Pole, Brian Reed – The City Club
On November 13th,  The City Club hosted a hugely successful fundraiser for the San Francisco Firefighters Toy Drive.
We raised over $9,000.00 in just 3 hours for this great organization! In addition to mingling with Santa, guests enjoyed a Speakeasy-themed evening full of delicious cuisine, spirits, wines, and libations in the 155 Society.
It's not too late to participate! Now though December 19th we will be collecting toys on the 10th Floor of the Club – look for the toy barrel and join in the fun by bringing in a book, board game, stuffed animal, soccer ball, or whatever your favorite toy is. Ages of recipients: babies to 14 years old.
Thanks to our corporate sponsor Sterling Bank & Trust, and all of our wonderful Members and friends.
Let's make the holidays shine for as many of our city's kids as we can!
Photo: James Lilley Images
Check our Facebook page for more pictures from this event!