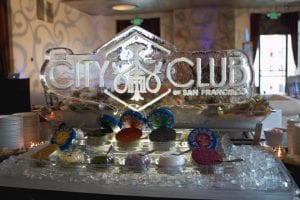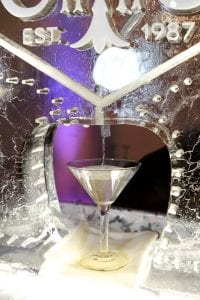 Last Wednesday, The City Club of San Francisco celebrated the launch of our new logo at our PREMIERE!  Over 400 people mixed and mingled throughout the Club's four floors – each floor having a different theme and 'look and feel.'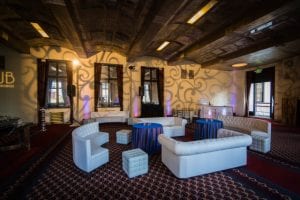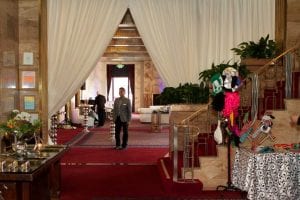 Guests were welcomed on the red carpet at the entrance of 155 Sansome Street, and were escorted up in the elevators by our event managers who excitedly announced the themes of each floor of the party.  The 9th floor featured a Speakeasy feel, with the original Great Gatsby showing on the big screen of the Salon (with a candy bar and truffled popcorn, of course!), while the Library next door offered the finest libations of Manhattans, savory bites, and something to pick up from our friends at Telford's Pipe & Cigar to enjoy in the ventilated lounge and 155 Society.
As guests ventured to the 10th floor, they were met with a beautiful draped entrance to the dining room, that opened up into a swanky modern lounge.  The white walls washed with dramatic lighting surrounded the room filled with logo-adorned ice sculptures and bars, a bubbly champagne tower, chic sofas and ottomans, and lots of good looking people!  While the DJ Kevin O'Scanlon spun a mix of hip, loungey music, guests sipped martinis and champagne, while noshing on caviar, sashimi, and shellfish from Chef Michael's raw bar.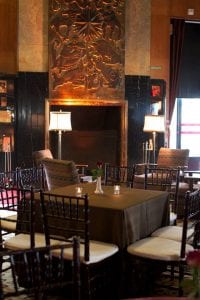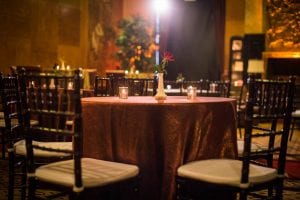 The 11th floor dining room was transformed into a piano bar supper club, featuring a 5 piece jazz band alongside a beautiful baby grand piano and beautifully adorned tables for dining.  Guests enjoyed a lavish buffet of harissa rubbed New Zealand leg of lamb, Snake River Farms smoked prime rib, wild mushroom bread pudding, heirloom tomatoes with burrata, garnet yam dauphinoise, and catfish po' boy sliders.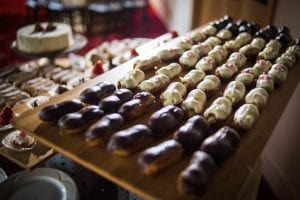 When it was time to end the evening with a sweet treat and a spiked coffee (or possibly another cocktail!), guests enjoyed desserts in our Penthouse and Parlor on the 12th floor, decked out for the holidays!  Christmas music in September?  Yep, that's how we do it here at The City Club.  It gives us a chance to show off a bit of what we can do come December…and who doesn't love a yule log or a Baileys & coffee year round?
As always, we LOVE throwing big parties and people are still talking about how this was 'the party' of all City Club parties!  We love to hear that.  A very special thanks to many of our vendors who are just so lovely to work with: Classic Party Rentals, Blueprint Studios, Nova Jazz, Poco Dolce Chocolates, Travelin' Jo Espresso, Kissbooth Photobooths, Chisel-It Ice, JL Imagination Event Production and Design, James Lilley Images, Scott Mosher Photography, Sound in Motion DJs, and Quesinberry & Associates.  You guys are all the very best!
Check out more party pictures on our Facebook page!
Photos:  James Lilley Images and Scott Mosher Photography