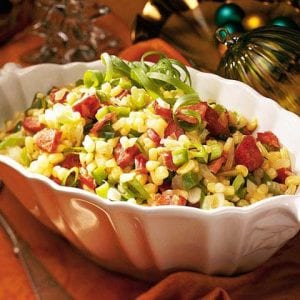 Executive Chef Michael Munoz shares one of his Mardi Gras favorites – a big hit at the Mardi Gras Masquerade!  Super easy preparation…so easy, you should make it tonight!
1 small onion, chopped
1/4 cup chopped green bell pepper
1 to 2 tablespoons olive oil
3 cups frozen shoepeg corn, thawed
2 plum tomatoes, diced
1/4 pound andouille sausage, cooked and diced
1/4 cup chopped green onion tops
1/4 teaspoon salt
1/4 teaspoon pepper
Sauté onion and bell pepper in hot oil in a large skillet over medium heat 8 minutes or until tender. Add corn, tomato, and sausage; cook, stirring often, 15 minutes. Stir in green onions, salt, and pepper; cook 5 minutes.
Recipe & Photo: Southern Living