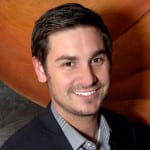 Sean Costella is a recent addition to our stellar catering team. Like a few other team members, he has some Santa Barbara roots and most recently joins us from a boutique hotel in San Francisco.  We're delighted he's now 'ours'.
How did you get into the hospitality industry?  I started working in a beachfront hotel in Santa Barbara as a bellman & guest services agent during college. I was promoted to Front Office Manager after college, then moved to the sales department shortly after. 
What is your favorite SF restaurant or watering hole?  This is always a tough one to answer since San Francisco has endless options! Favorite Restaurant(s): For Italian, Rose Pistola in North Beach. Best risotto I've ever tasted.  Firefly in Noe Valley is also another personal favorite. My favorite watering hole in Cantina. They make some of the most refreshing cocktails in the city. 
Who would be your guests at your 'dream' dinner party?  I'd have to start with my Mom, Dad, and sisters. Besides my family, it would be great to have Christopher Walken at the table. He's always been one of my favorite actors/comedians. 
What do you like to read?  I like to read non-fiction books usually about runners and other athletes who accomplish amazing feats. They're always motivating and remind us what we're capable of if we just push ourselves. 
Planning a special event, meeting, or wedding?  Sean's your guy!