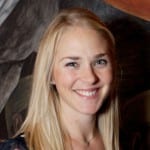 Cassie Harris, Associate Club Director of Catering, has been with The City Club for over six years!  Read more about who she really is here…
How did you get into the hospitality industry?  When I was in college, I was obsessed with the wedding planner reality called  "Whose Wedding is it Anyway?" that followed various planners through the stages of planning their client's weddings.  I decided that I wanted to pursue wedding planning and started as and Administrative Assistant in a Special Events Dept. of a resort. 
Who is your favorite figure in the Diego Rivera mural, and why? 

 

My favorite figure in the mural is the depiction of the sculptor Ralph Stackpole's son in the center holding the airplane.  This figure represents the "youngness" of aviation and air travel.  I mostly enjoy the idea that this group of artists and architects were collaborating on the project and being inspired by each other and what was going on around them on the site.  I imagine a playful and creative atmosphere with people coming to and fro, commenting and jesting with each other.  I feel that you can sense the camaraderie and playfulness of this group of artists even today when you walk through the space.
What is your favorite SF restaurant or watering hole?  I really love Wayfare Tavern downtown for dinner but Roam Burger in the Marina is absolutely delicious for anytime.  Their veggie burger is one of a kind!
Who would you be guests at your 'dream' dinner party?  Ernest Hemingway, Marilyn Monroe, Clint Eastwood, Margret Thatcher, Abraham Lincoln and Carl Jung.
What do you like to read?  I am a voracious reader.  I like to read fiction stories, both contemporary and classic.  I just finished "An American Tragedy" by Theodore Dreiser which was a bit of a mission to get through but definitely worth it in the end! 
Planning a meeting, wedding, or special event?  If so, Cassie is your girl.