Business & Corporate Meeting Venue
Serving the San Francisco Bay Area
As a business owner, you should only want the very best, especially when it comes to where you are holding your larger-scale off-site business or corporate meetings and luncheons. If you're looking for a one of a kind presentation space or a unique venue for your off-site corporate meeting with out of town guests, consider The City Club of San Francisco to be your one-stop-shop for the best cuisine and outstanding service.
Our business meeting spaces offer exceptional views of the city skyline, as well as upscale Art Deco features that give your event a luxurious look and feel.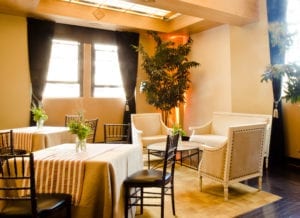 Having a Corporate Meeting at The City Club of San Francisco Means
All You Have to Do is Show Up!
The City Club of San Francisco has an event planning staff able to accommodate your event's every need. From corporate event planning services to audiovisual support for your business presentations, to corporate catering services and more, The City Club of San Francisco should be your top choice for all your corporate events in the Oakland, San Jose, and San Francisco Bay areas!
If you'd like more information on how we can make your business meeting one of a kind, call us today! We'd be happy to meet with you to discuss the details!
Let Us Help with Your Networking Events
In an ever-changing business world, it is important to keep up with trends in your industry and with your targeted market. Are you interested in building long-term relationships and growing your social network? You might be interested in planning networking events to meet others who can assist you and who you can potentially assist in return. Whether you are building a new business or want to maintain the energy and drive of your current business, rely on us.
At City Club of San Francisco, we offer the space you need to host a successful networking event in the San Francisco, CA area. We offer ten unique rooms, all varying sizes, to accommodate your event. Contact us today for more information and let us help you expand your business.
Explore the Upside of our Elegant Business Meeting Space
Impart a sense of class on your corporate function when you work with the team at the City Club of San Francisco. Our location offers a sense of privacy and intimacy to ensure your attendees are able to properly engage in your proceedings. On top of that, our business meeting space features lovely views and has been outfitted with an array of elegant flourishes. There's simply no better location to interface with prospective clients or celebrate with your staff members. Best of all, our space is offered at a highly competitive rate, so you won't have to worry about paying inflated prices or hidden service fees.
Simply contact one of our friendly representatives to jumpstart the scheduling process.
To Book Our Business Convention Venue,
Please Enquire Here